Return to Headlines
Streamlined Digital Communication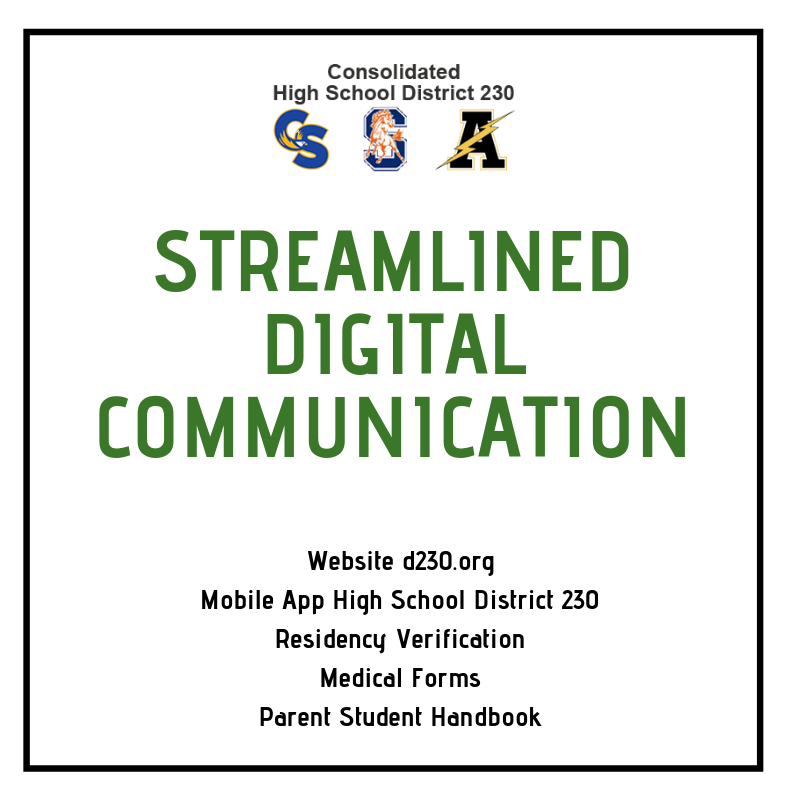 District 230 continues to streamline communication processes through the use of digital tools in response to feedback from families and students. Our goal is to provide timely information and secure systems that can be accessed anytime, anywhere. We know that families are busy and being able to find information and upload required documents on their own schedule will be of assistance. Here are several ways District 230 is digitizing communication to meet families' needs.

A new online form submission process is being piloted this year to ease the process of turning in residency and medical forms. The district is excited about the modernization of this process and appreciates families' patience as we implement the new system. Specifics will be communicated by the Guidance Departments regarding what documents are needed. The links for the online document upload system will be found on the schools' Guidance Department web pages.

Residency Documents
Each year, families must provide Annual Residency Verification documentation to the district. Families of returning students can now submit this paperwork through a secure digital tool. Once submitted, all documents will be reviewed by staff to assure authenticity. Those who do not wish to use the digital process can submit paperwork at Annual Residency Verification dates on Tuesday, March 5 from noon until 7:00 p.m., Wednesday, April 17 from 8:00 a.m. until noon and 4:00 p.m. until 8:00 p.m., and Saturday, May 4 from 8:00 a.m. until noon at their school. New students and incoming freshman must complete the Annual Residency Verification process through the traditional paper process.

Medical Forms
Families must provide certain medical information to the district in accordance with state law. This includes The Certificate of Child Health Exam, Dental Exams, Eye Exams, Evidence of Meningococcal Vaccination, and Medication/Asthma/Allergy Forms. Soon, these will be able to be submitted in a digital format. Details will be shared soon by the Nurse's Offices.

Website & Mobile App
The newly launched website (www.d230.org) serves as a communication hub with a modern design and easy to access information. The district's mobile app can now be downloaded to any mobile device that will connect families to important information through alerts pushed directly to their device as well as links to key information and systems including Skyward, Canvas, calendars, and lunch menus. Search for Consolidated High School District 230 in the app store for any device. You can then select which school you'd like to receive information about through the app.

Parent Student Handbook
In response to feedback from students and families, for the 2019-20 school year, the Parent Student Handbook will be available digitally on the website, mobile app and a link on student's district issued Chromebook. Moving to a digital version of the handbook will allow it to be current throughout the school year as policies and other information are updated. A paper version will also be available at each of the schools for families who do not have digital access. The district will provide a streamlined academic planner for students to organize their assignments and schedules.